Soziales, ehrenamtliches und fachliches Engagement ist unsere Art, unserer gesellschaftlichen Verantwortung gerecht zu werden. Ob Unterstützung von Kindern und Jugendlichen in Afrika, Laborunternehmen in Deutschland, Sport Sponsoring oder die Mitgliedschaft in wissenschaftlichen Organisationen, alle Informationen dazu finden Sie hier.
Are you interested in partnering with us?
If so, please get in touch. We look forward to working with you.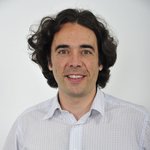 Alexander Wodrich
Back Office Manager
Get in touch